In 1985 Dr Edward de Bono wrote a book called Six Thinking Hats, the premise of the book is that the human brain thinks in a number of distinctly different ways. Edward de Bono used coloured hats as a metaphor for how the brain worked – Blue "The Big Picture", White "Facts & Information", Red "Feelings & Emotions", Black "Negative", Yellow "Positive" and Green "New Ideas".
In de Bono's mind when you figuratively wear the relevant coloured hat, that's the type of thinking you brain will engage in. He believed this approach could be used to develop teamworking, brainstorming and communication skills. So when I was asked to write a blog introducing myself, I thought I'd guide your around my hat collection to explain what each hat says about me.
1) TaylorMade Baseball Cap – I can't stand golf so this is my go-to climbing cap. It's battered, dog-eared and faded and I love it. When I wear this hat I am bombproof, I can climb anything! I took up climbing about 10 years ago after I gave up playing rugby, replacing one mad adrenaline sport with another. I've climbed throughout the UK and overseas in some staggeringly beautiful places with great mates (accompanied by good whisky).
I've always loved to challenge myself both physically and mentally and climbing does that in spades. Physically, climbing is not a difficult sport; what sets the great climbers apart is their mental strength and I've worked hard at developing my own mental resilience. Critically I wear this baseball cap in two different ways – standard peak forward is for walking and general approach work, but as soon as I get ready to climb, the peak is turned backward as I prepare myself mentally for the challenge ahead.
If I'm in this hat we're going vertical.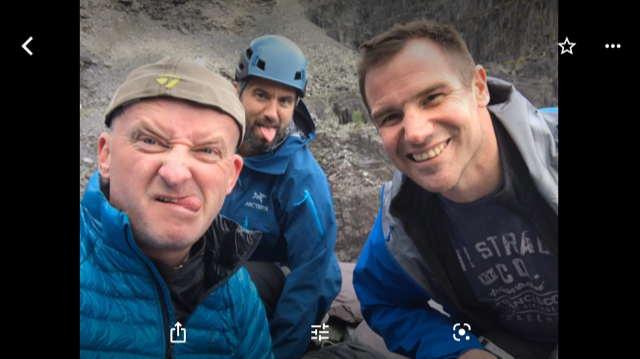 2) Panama Hat – my Panama Hat shouts travel at me! I love travelling, embracing new cultures and just generally experiencing everything this amazing world of ours has to offer. In 2006, my wife and I sold our house and travelled round the world for 18 months – amazing does not do it justice. We visited New Zealand, Australia, Thailand, Bali, Brazil, Argentina, Peru, Ecuador and much of Europe (we even settled in France for 6 months), but I left my heart in Ecuador. A stunning country with wonderful people, the Panama hat is actually made in Ecuador and so is misnamed but the country doesn't mind it's just happy people like their hats – the Galapagos Islands, Amazon jungle, pacific ocean and snow-capped volcanoes everywhere are sights and views to die for. I've been back several times and now work with and sponsor a children's education project called The Book Bus in a small pacific coast town called Puerto Lopez, it's a library and classroom packed into the back of a small van called Book Bus Alfie, named after my Dad but sponsored and dedicated to the memory of my wife Andrea, who passed away in 2013 from cancer.
If I'm in this hat we're going away somewhere.
3) Green Tweed Cap – my peaky blinders cap. I bought this in Edinburgh two years ago when I took my partner Pam for a weekend away. I love Edinburgh but this cap is about new beginnings for me. I've known Pam (and her daughters by extension) for a little over three years, she's a Thai chef who does everything with immense passion – cooking, driving, arguing, her food is genuinely amazing and her restaurant Bamboo Thai at Woodside Ferry Village will I hope, be an immense success.
This cap is also my creative hat, I wear it when I'm writing (I'm genuinely wearing it as I write this). I really enjoy writing pretty much anything, I've written six short leadership books which are on Amazon and I'm a mere 10 years into writing my first novel, only another ten years to go.
If I'm in this hat I'm fighting overly spiced food or writing (sometimes both at the same time).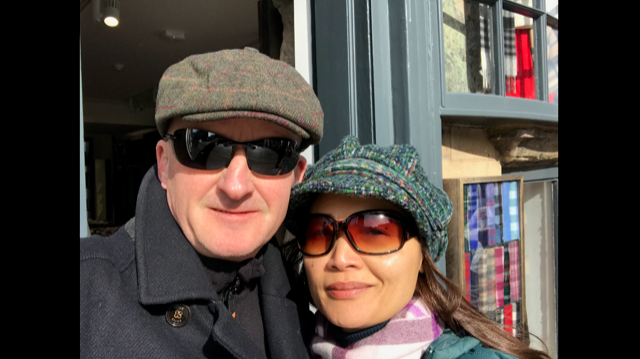 4) Blue Under Armour Beanie (and buff) – adventure again. I bought this in Nepal last year when I went to trek round (not up) Everest. It reminds me of amazing scenery, wonderful travelling companions from around the world but also of the Nepalese people who were just recovering from a major earthquake which had killed many thousands of people. Despite their own hardships they couldn't do enough to make our trip, which seemed incredibly arduous to us Westerners, as enjoyable as possible. My abiding memories of Nepal is not Everest, its playing pool whilst drinking moonshine with the porters and watching them lug our enormous packs of gear across three feet of snow, wearing flipflops and singing Beatles songs.
If I'm in this hat we're going out into the snow.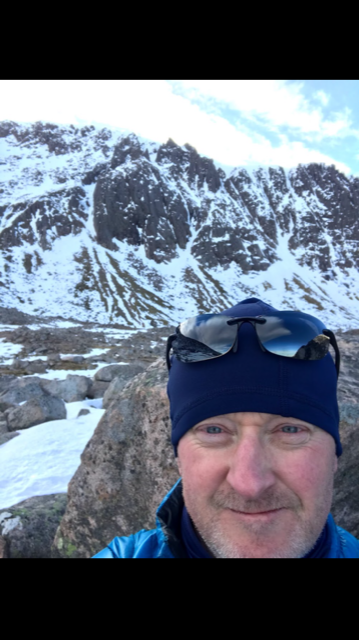 So only four hats to de Bono's six, maybe I need two more…