ICE Creates have been working with Leeds and York Partnership Trust to co-create and develop an innovative Reciprocal Mentoring programme. As the ICE Excellence model is based on Insight, Co-Creation and Engagement, all programmes and OD intervention will start with Co-creation as best practice. To truly co-design the Reciprocal Mentoring approach, so it met the needs of individuals and the organisation, co-creation was essential as it would inform the shape, rhythm and specific inputs to the programme, as well as set it up for success from the outset.
The 2-hour session brought all 24 programme participants together for the first time, and ICE facilitated using Clean Language to enhance open and safe inquiry, captured using live Graphic Scribe (shown below).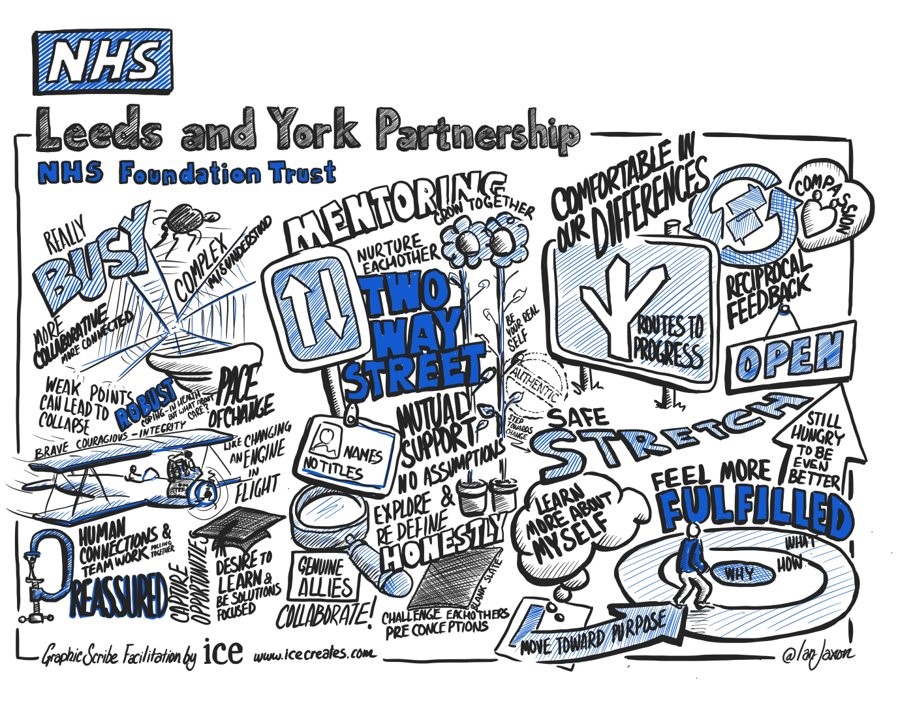 At the end of the session, the lead commissioner Caroline Bamford, EDI Lead reflected:
'Wow! That was different and I've been to lots of so called 'co-creation events' but never one like this, where we would never have thought that we would have got that amount of depth, insight, engagement and energy to give us a clear roadmap for the future.'
It's always great to have a happy client, so we asked Caroline to help us understand 'What was the difference that made the difference?' Here are some of her thoughts:
• ICE set it up so people came with no pre-assumptions, which made it very equal.
• As facilitators, you were very in tune with the energy in the group. You were like taps, where you were able to hold the energy in the room as well as enthusing your own energy.
• You built the confidence quickly at the start, so people felt safe and able to share at a deep and insightful level and there was 100% participation and contribution.
• The model of (Clean) questioning gave us all time to consider, and to be honest – we didn't know where it was going, but we trusted you and the direction of travel. The stepped approach gave us real insight to be able to look at the layers of complexity, to be able to reflect on what we truly valued, and our current and future vision.
• You facilitated this so skilfully, creating an absolutely level playing field (across whole Board and more junior colleagues) for contribution and everyone's voice was equal.
• With the initial feedback during the session, everything was valuable and contributed to the programme design, and there was no dip in energy or excitement during the time.
• The Live Scribe, expertly captured in the moment, helped everyone to see their contribution – words or metaphor, and provided excitement, possibilities and energy for our Reciprocal Mentoring programme going forward.
Caroline Bamford
Head of Diversity and Inclusion
Leeds and Partnership NHS Foundation Trust
January 2021
Full case study available on request here